Comfort Whatever the Season AND Cash Back!
Earn a rebate, conserve energy, and save in the long run with a high-efficiency heating & cooling system.
Keeping your home comfortable typically accounts for 50% of your energy bill. By upgrading to a new high-efficiency furnace, you can bring down the cost of your energy bill by reducing energy use and get cash back with an instant rebate.
As a preferred Xcel Energy Trade Partner, Efficient Comfort, understands the rebate requirements and will recommend the best system for your home comfort, while maximum the savings.
Getting a rebate while equipping your home to save energy is the ultimate win-win situation. A wide range of rebates are offered below that can save you energy and money, create a more comfortable home, and even contribute to a more sustainable future for all of us who live in Denver, Colorado and the surrounding areas like Broomfield, Westminster, Arvada, and Boulder.
Some samples of rebates currently being offered are:
XCEL Energy Air Conditioner Rebate
XCEL Energy Heat Pump Rebate
XCEL Energy Furnace Rebate
XCEL Energy Mini Split Rebate
Please see chart for the full list.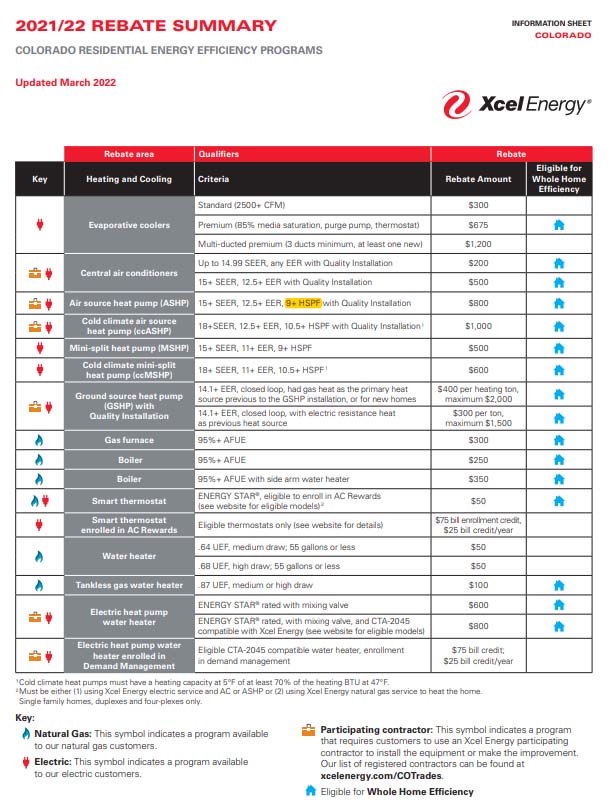 We want the process of upgrading your system to be as easy as possible, which is why we offer the Xcel Rebates as instant savings.
To learn more, schedule an estimate with our expert technicians today by calling the office at 303-502-2275 or click the button below to fill out a simple form and someone will get back to you as soon as possible!